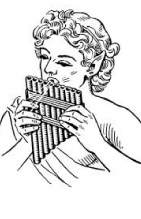 Carlo Morena began studying piano at a very early age and later attended the Conservatory of Santa Cecilia in Rome where he attended flute classes with Mario Carmignani (First Flute at the Rome Opera House), harmony and music composition with Carlo Cammarota, counterpoint and fugue with Guido Turchi and instrumentation with Gino Marinuzzi jr.
He then studied flute for a while with G.Scheck and K.Klemm.

He began his professional career as principal flute with the "Complesso Settecentesco Italiano" on tour throughout Europe; and with the "Orchestra Giovanile Italiana" in the first and second season for the Chigiana Academy in Siena where he also studied conducting with P. Bellugi e F. Ferrara.
He has been repeatedly invited to perform as a soloist by the most important Italian theaters and concert halls in recitals and as a guest soloist with orchestral and chamber ensembles. He has held concerts in Europe, USA, North Africa and Eastern Europe.
He has given concerts as a soloist with the "Zagreb Soloists" (over 60 concerts), the "Orchestra di Padova e del Veneto", with the "Solisti Aquilani", the "Chamber Group of the Academy of Santa Cecilia", the "Solisti di Perugia" (Synphonia Perusina) with the Abruzzese Symphonic Orchestra, (among the first musicians in Italy to perform the " concierto pastoral " by J.Rodrigo with director A.Bernard) and with several other chamber orchestras.

With regard to chamber music he played in stable ensembles and projects with the following musicians, including violinists Felix Ayo, Pavel Vernikov , Nina Beilina; violists Tabea Zimmermann, Reiner Smith and Csaba Erdely; harpists Susanna Mildonian and Fabrice Pierre; soprano Cecilia Gasdia; the Trio di Parma and pianist J. Demus.

He has been called upon several times to join committees at international competitions such as the "JUNESSES INTERNATIONAL FLUTE COMPETITION" of Bucharest; the "NEW TALENT COMPETITION " of the UER (Union européenne de radio-télévision) currently known as EBU (European Broadcasting Union); the V. Bucchi Competition, the "krakamp". He has recorded for Alexander rec and Musikstrasse.
In the 90s Carlo Morena completed six years as Artistic Director of the "Festival Internazionale di Maratea e del Golfo di Policastro" where the world's greatest soloists, orchestras and ballets have performed.

He taught at New York University and Bilbao University; gave master classes at the Gubbio festival, the courses in Norcia and other Italian master classes.
He has recently recorded an educational CD on the flute which was distributed at newsstands as an attachment to "La Repubblica" daily newspaper.
He teaches at the Conservatory of Santa Cecilia in Rome.
He plays an Abell Grenadilla-wood flute.